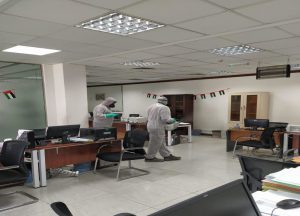 COVID-19 – CORONA Disinfection Services
QPC is municipality-approved disinfection company providing anti-viral disinfection treatment with a Biocidal disinfectant that is tested against Corona (COVID-19) to safeguard your premises from contamination.
Service involves the application of a biocidal product in the form of a spray of mist to areas of your property affected by pest activity. Highly trained professionals are performing anti-viral & anti-bacterial disinfection with no compromise in quality.
The product is clear, odorless, non-leaching, environmentally safe, non-corrosive, and whiles completely safe for humans and animals is deadly for a wide range of microorganisms including bacteria, mold, fungi, and viruses.
Our chemical contains no chlorine, no thickeners, no stabilizers, no colorants, no dyes, no fragrances, and no additives. It is also non-oxidative, making it safe for application to a variety of surfaces and materials including metals, fabrics, carpet, upholstery, drapes, linens, wood, plastics, stone, and porcelain. It is applied as a water-based, food-safe product and when it dries it forms a covalent bond with the surface that resembles millions of 'pins' that attract, pierce and kill a variety of pathogens.
Note that we are using a product that disinfects are being used in aircraft, hospitals & government entities in UAE
Disinfectant
Disinfectants are antimicrobial agents designed to inactivate or destroy microorganisms on inert surfaces. Disinfection does not necessarily kill all microorganisms, especially resistant bacterial spores.
These are advanced than normal cleaning products
Biocide
A biocide is defined in the European legislation as a chemical substance or microorganism intended to destroy, deter, render harmless, or exert a controlling effect on any harmful organism.
Biocidal disinfectant
We are using a biocidal disinfectant that has hybrid featured to protect & prevent the surfaces from contamination. It is tested against viruses & provides long-lasting protection after applying.
100% more advanced than normal disinfectant
Advantages of Anti-viral disinfection & Sanitization Services
Long-lasting protection that won't wash off.
The nanoTech formulation ensures long-lasting effect thus bridging the gap in between application reducing the possibility of re-contamination. Effective against a host of viruses including Swine flu, H1N1, H7N9, Ebola, HIV, SARS, MERS, and COVID-19 Corona other pathogens.
The antimicrobial coating that bonds to surfaces and delivers long-lasting protection against germs.
Leaves a thin layer after application that remains active for days thereby bridging the gap in between application, and reducing the potential for recontamination.
Applicable on solid or porous surfaces, fabrics, metals, stones, granites, plastic, glass, plexiglass, wood, leather, and paint or varnished coated surfaces. Eliminates unpleasant odor due to the proliferation of bacteria, fungi, and other microorganisms.